Accurate Breath V: Using New Breath Weapon
Comments

0
6,492pages on
this wiki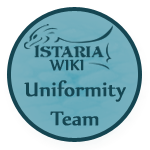 Caution: This page needs updating!
This page severely needs an update, either to its visuals or its content. The information on this page might not be accurate or up-to-date, so please take caution when using it.

If you would like to help the Istaria Wiki by updating this page, please be sure to view what templates are in use on our site, and check similar pages to reference off of and keep things uniform. Thank you!

You are ready to refine the use of other types breath weapons. Luadius has sent you into dangerous know as Northern Deadlands to seek out Redbacked Tarantulas as your new target practice.
Kill twenty Redbacked Tarantulas (any but the hatchlings)
Use at least 10 times Breath of Fire, Breath of Ice and Breath of Lightning while fighting the tarantulas
Accurate Breath V

Exp