Find Bay on Istaria Reference's in-browser map!
Bay is a named creature. Approximate in-game coordinates this creature can be found at are (28613,27478). Nearby enemies include Greater Winter Werewolf, Lesser Winter Werewolf.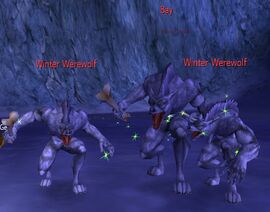 Locations
Abilities
Improved Theft of Life II

Lessen Armor III

Lycanthropy

Ripclaw III

Ripclaw Effect

Rust III

Tendon Rip III

Theft of Life III

Werewolf Bite IX

Werewolf Regeneration

Wolf Howl III

Wounded III
Ad blocker interference detected!
Wikia is a free-to-use site that makes money from advertising. We have a modified experience for viewers using ad blockers

Wikia is not accessible if you've made further modifications. Remove the custom ad blocker rule(s) and the page will load as expected.