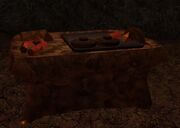 The Crystal Shaper is used to make crystal building materials. They are part of the dragon lair constructions: Helian Crystal Shaping and Lunus Crystal Shaping.
Related Skills
Edit
Crystal Shapers require the Lairshaping skill.
Dragon Shops
Edit
Helian Crystal Shapers and Lunus Crystal Shapers in a player owned lair adds a tier related bonus for dragons to the appropriate skill.
| Shop | Skillbonus |
| --- | --- |
| Helian/Lunus Crystal Shaper | - |
| T1 Helian/Lunus Crystal Shaper | +15 |
| T2 Helian/Lunus Crystal Shaper | +30 |
| T3 Helian/Lunus Crystal Shaper | +45 |
| T4 Helian/Lunus Crystal Shaper | +60 |
| T5 Helian/Lunus Crystal Shaper | +75 |
| T6 Helian/Lunus Crystal Shaper | +90 |