The Portable Scroll Tote was invented by Farmer Holcomb. It can be used to transport scrolls containing formulas and instructions on how to add a technique to an item, but won't hold other types of items due to the design.
Use Characteristics
Edit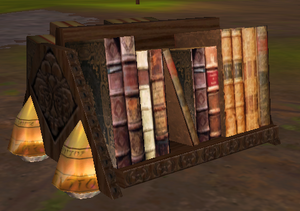 It can be used to transport scrolls, formulas and techniques.
Requirements:
Any Trade School (level 20)
Additional information:
Stack: 50
Bulk: 50
Portal: Yes
Recall: No
Speed: No Negative
Speed Limit: No Limit
Fly Height: No Limit
Quest-only: No
Attuned: No
Creation Requirements
Edit
Required skill is Tinkering, crafted with a Tinkering Spanner using a Tinkering Workbench. The formula is a reward from the quest Normand's Marvelous Invention given by Normand Holcomb to Tinkerers.
¹ Lowest Level Formula in which it is found.