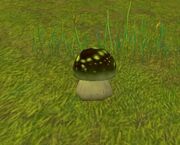 Fungus is a raw resource used in crafting that grows in a number of locations in Istaria. Fungus has a number of uses in game, such as:
There are several different types of fungus, organised into Tiers as follows:
Tier
Name
Minimum Skill
Optimal Skill
Portal
Location
1
Istarian
150
350

South of Kion
Western Spirit Isle
in a cave in southwest, near the Red Tusks

2
Browngill
350
575

North of Festival Crypt

3
Roughcap

4
Stonespore

East of Feladan

5
Blood

Drakul
Isle of Fire (Mine)

6
Shadowstem

anyplace

Eastern Deadland
Ad blocker interference detected!
Wikia is a free-to-use site that makes money from advertising. We have a modified experience for viewers using ad blockers

Wikia is not accessible if you've made further modifications. Remove the custom ad blocker rule(s) and the page will load as expected.