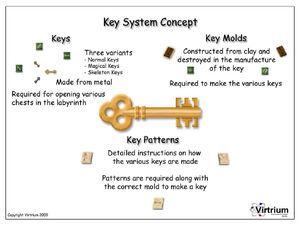 A mold of a key, formed out of clay.

Key Molds are used as a resource for tinkering Keys. The Key Patterns are purchased from Finagle Biggletorque at Delgarath for 375 c each. Keys can be created by Tinkerers.
Creation Requirements
Edit
Required skill is Earthencraft, crafted with a Clay Scoop using a Pottery Wheel and Kiln.
Name
Resource
Need
Min Skill
Opt Skill
Lowest Formula¹
Basic Key Mold

1-1
4-2

1
1

1
200

Basic Key Mold

Advanced Key Mold

1-1
4-2

400
400

400
650

Advanced Key Mold

Complex Key Mold

1-1
4-2

800
800

800
1100

Complex Key Mold
¹ Lowest Level Formula in which it is found.
Ad blocker interference detected!
Wikia is a free-to-use site that makes money from advertising. We have a modified experience for viewers using ad blockers

Wikia is not accessible if you've made further modifications. Remove the custom ad blocker rule(s) and the page will load as expected.