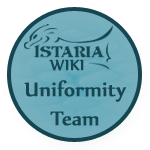 Caution: This page needs updating!
This page severely needs an update, either to its visuals or its content.The information on this page might not be accurate or up-to-date, so please take caution when using it.

If you would like to help the Istaria Wiki by updating this page, please be sure to view what templates are in use on our site, and check similar pages to reference off of and keep things uniform. Thank you!

Lesser Aradoth
Lesser Aradoth is the home of the Saris and Sslik races, with the Saris being the more dominant on the isle. Although relatively safe compared to the Deadlands, Lesser Aradoth does have its share of trouble with the Withered Aegis. New traveler must be careful on the roads due to patrolling agents of the Withered Aegis, some which often catch new adventurers unaware.
Locations
Edit
Kion Forest
Spider Isle
Kion Volcano
Blighted Outpost
Sslanis Jungle
Sslanis Basin
Greenridge Mountain
Sandstone Quarry
Abandoned Quarry
Kion Town Marshal Quests
Edit
Levels 10-14
Edit
Levels 15-19
Edit
Sslanis Marshal Quests
Edit
Kion Forest
Edit
Spider Isle
Edit
Lakes of Crystal Tears
Edit
Confectioner
Edit
Resources
Edit
Beastiary
Edit
Wolves

Greymane Pups (Rating 1-5)
Greymane Juveniles (Rating (3-5)
Greymane Seekers (Rating 6-12)
Na-Nuk (Rating 16)

Beetles

Small Sand Beetles (Rating 1-5)
Sand Beetles (Rating 6-10)
Large Sand Beetles (Rating 11-15)
Giant Sand Beetles (Rating 16-20)
Gritus Maximus (Rating 11)
Gritus Gigantus (Rating 21)

Giant Chickens
Fyakki

Brittle Fyakki (Rating 16-20)

Maggots

Small White Maggots (Rating 1-5)
White Maggots (Rating 6-10)
Small Red Maggots (Rating 11-15)
Red Maggots (Rating 16-20)

Sand Pygmies

Sand Pygmy Gatherers (Rating 3-6)
Sand Pygmy Warriors (Rating 7-10)

Sand Ogres
Gruoks

Wild Grulets (Rating 1-3)
Wild Gruok Sow (Rating 4-7)
Wild Gruok Rating 7-10)
Bessie (Rating 12)
Brownsnout Youngling (Rating 5-9)
Brounsnout Sow (Rating 10-13)
Brounsnout Forager (Rating 13-14)
Tusker (Rating 17)
Ferocious Gulets (Rating 11-13)
Ferocious Gruok Sows (Rating 13-17)
Ferocious Gruoks (Rating 17-20)
Squidgy (Rating 22)

Necroflies

Biting Necroflies (Rating 6-15)
Brown Necroflies (Rating 16-20)

Treants

Cedar Treant Saplings
Cedar Treants (Rating 11-15)
Massive Cedar Treants (Rating 16-18)
Enraged Cedar Treants (Rating 19-20)
Greenpiece (Rating 20)

Spiders

Forest Crawler Hatchlings (Rating 1-5)
Forest Crawler Workers (Rating 6-10)
Forest Crawler Soldiers (Rating 11-15)
Forest Crawler Breeders (Rating 16-20)
Forest Crawler Huntress (Rating 21)
Blightbite

(Rating 22)

Jungle Crawler Hatchlings (Rating 1-5)
Jungle Crawler Workers (Rating 6-10)
Jungle Crawler Breeders (Rating 6-10)
Jungle Crawler Soldiers (Rating 11-15)
Spinebleed (Rating 17)

Tarantulas

Venemous Stalker Hatchlings
Venemous Stalker Breeders
Venemous Stalker Aggressors
Withered Aegis
Edit
Weaker Saris Skeletons

Weaker Saris Skeleton Raiders (Rating 6-11)
Weaker Saris Skeleton Marauders (Rating 6-13)

Weaker Sslik Skeletons

Weaker Sslik Skeleton Protector (Rating 13)
Weaker Sslik Skeleton Raider (Rating 11)
Weaker Sslik Skeleton Ravagers (Raiting 11)
Weaker Sslik Skeleton Marauders (Raiting 8)

Weaker Saris Zombies
Blights

Weaker Straw Blights (Rating 1-5)
Weaker Water Blights (Raiting 6-15)

Mummy

Weaker Saris Mummy (Rating 16-19)
Unclear Healer (Rating 17-19)
Risen Champion (Rating 21)
Ancient Mummy (Rating 20)
Lord Bar'Akath (Rating 23-24)