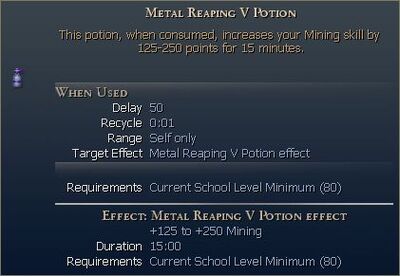 Potions are crafted by Alchemists using the Alchemy skill with a Mortar and Pestle and a Cauldron. To craft potions it needs resources like: glass vials, tools and suspensions. Potions are useable items and add buffs to the character, like a bonus to strength, resistances, mining skill or adding heal over time to regain players health.
Usable By
Edit
Potions can be used by all schools and races as long they fulfill the level requirement.
Required skill is Alchemy
Ad blocker interference detected!
Wikia is a free-to-use site that makes money from advertising. We have a modified experience for viewers using ad blockers

Wikia is not accessible if you've made further modifications. Remove the custom ad blocker rule(s) and the page will load as expected.