Ad blocker interference detected!
Wikia is a free-to-use site that makes money from advertising. We have a modified experience for viewers using ad blockers

Wikia is not accessible if you've made further modifications. Remove the custom ad blocker rule(s) and the page will load as expected.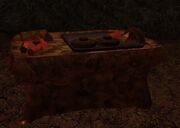 Scale Forges are Dragon machines used to create Dragon Scales. They are part of the dragon lair constructions: Helian Smelting and Lunus Smelting.
Related Skills
Edit
Scale Forges require the Dragon Scalecraft skill.
Dragon Shops
Edit
Helian Scale Forges and Lunus Scale Forges in a player owned lair adds a tier related bonus for dragons to the appropriate skill.
| Shop | Skillbonus |
| --- | --- |
| Helian/Lunus Scale Forge | - |
| T1 Helian/Lunus Scale Forge | +15 |
| T2 Helian/Lunus Scale Forge | +30 |
| T3 Helian/Lunus Scale Forge | +45 |
| T4 Helian/Lunus Scale Forge | +60 |
| T5 Helian/Lunus Scale Forge | +75 |
| T6 Helian/Lunus Scale Forge | +90 |