Skalkaar Isle
Skalkaar Isle is the tutorial island for Dragon players. There are a number of Quests designed to help new Dragons explore the land and learn how to play the game. The Biped-equivalent tutorial island is Spirit Isle.
Location Type
Destination Pad
Travel Gate
Shrine
Island
(41496,16500)
(42491,16503)
(41668,16498)
Inhabitants
NPCs
Creatures

Expand

Collapse

Expand

Collapse

Quests

Expand

Collapse

Find Skalkaar Isle on Istaria Reference's in-browser map!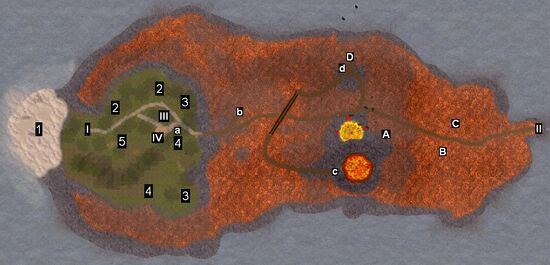 Point of Interest
Name
Monsters
NPC's
Structures

I. Arrival Pad
II. Portal to New Trimus
III. Information Building
IV. Shrine

Crafting

A. Copper & Tin veins
B. Garnet, Malachite, Turqouise outcroppings
C. Sandstone exposures
D. Bridge to Floating Island
Ad blocker interference detected!
Wikia is a free-to-use site that makes money from advertising. We have a modified experience for viewers using ad blockers

Wikia is not accessible if you've made further modifications. Remove the custom ad blocker rule(s) and the page will load as expected.