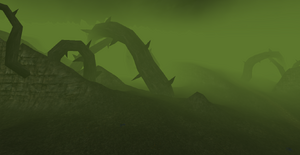 The Western Deadlands is an area of Blighted Land on the Western side of Istaria. It is home a very powerful group of Withered Aegis. These Aegis are commonly level 70-90 and are usually given a wide berth by those around or below those levels. It is located north of Dryart and west of the Floating Island.
No NPCs found.

No Named Creatures found.
Ad blocker interference detected!
Wikia is a free-to-use site that makes money from advertising. We have a modified experience for viewers using ad blockers

Wikia is not accessible if you've made further modifications. Remove the custom ad blocker rule(s) and the page will load as expected.